8 Advantages of Starting a Business in Indonesia
Indonesia is a growing country in the world economy, with a population of over 270 million people and a GDP of $1.32 trillion in 2022. The country has been attracting foreign investors with its large market, abundant natural resources, trade agreements, and investment incentives. In this article, we will explore eight advantages of starting a business in Indonesia and how you can benefit from them.
Low Labour Costs
One of the main advantages of doing business in Indonesia is the low cost of labor. According to the World Bank, the average monthly wage in Indonesia was $220 in 2020, compared to $3,700 in the United States and $4,100 in Japan . This means that you can hire skilled and qualified workers for a fraction of the cost in developed countries. Moreover, Indonesia has a young and productive workforce, with a median age of 30 years and a literacy rate of 95%.
Trade Agreements
Indonesia is a member of the Association of Southeast Asian Nations (ASEAN), which has established a free trade area among its 10 member states. This gives Indonesian businesses access to a market of over 650 million people and a combined GDP of $3.2 trillion. Furthermore, Indonesia has signed bilateral and multilateral trade agreements with several countries, such as Australia, China, Japan, Korea, Pakistan, and the European Free Trade Association (EFTA). These agreements reduce or eliminate tariffs and non-tariff barriers, facilitate trade procedures, and promote cooperation in various sectors. By starting a business in Indonesia, you can leverage these trade opportunities and expand your market reach.
Investment Incentives
The Indonesian government offers various incentives to attract foreign and domestic investment in priority sectors, such as manufacturing, infrastructure, tourism, agriculture, and renewable energy. Some of the incentives include tax holidays, tax allowances, import duty exemptions, accelerated depreciation, and special economic zones . For example, investors who invest at least IDR 100 billion ($7 million) in certain industries can enjoy a 100% income tax reduction for up to 20 years. Additionally, the government provides support services for investors through the Investment Coordinating Board (BKPM), which acts as a one-stop service for investment licensing and facilitation.
Business-Friendly Environment
Indonesia has been improving its business environment by implementing reforms to simplify regulations, reduce bureaucracy, and enhance transparency. According to the World Bank's Doing Business 2020 report, Indonesia ranked 73rd out of 190 economies in terms of ease of doing business, up from 120th in 2014 . The report also noted that Indonesia made significant progress in areas such as starting a business, dealing with construction permits, getting electricity, paying taxes, and enforcing contracts. The government provides full support to foreign investors by implementing various initiatives to streamline the process of setting up and operating a business in Indonesia.
Abundance of Natural Resources
Indonesia is endowed with rich natural resources that can support various industries and provide competitive advantages. The country has vast reserves of coal, oil, gas, nickel, bauxite, gold, tin, copper, timber, palm oil, coffee, rubber, cocoa, and spices. These raw materials play a crucial role in the production process and can lower the input costs for businesses. Moreover, Indonesia has a diverse and fertile land that can support a variety of agricultural products and food crops. By starting a business in Indonesia, you can tap into these natural resources and create value-added products for domestic and international markets.
Improved Legislation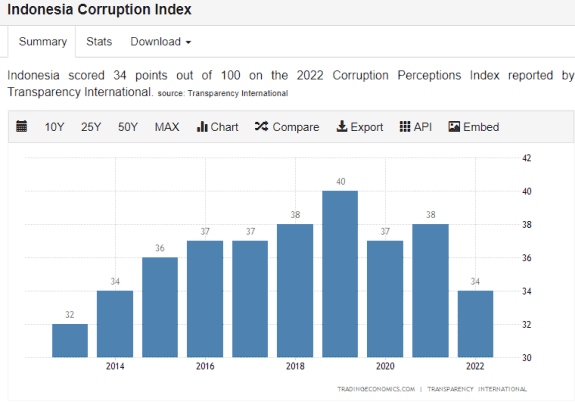 Indonesia has been trying to mitigate the problem of corruption which has been a prevalent issue in the country. In order to do so, the government established the Corruption Eradication Commission (KPK) in 2002 to investigate and prosecute corruption cases .
The KPK has been effective in bringing high-profile offenders to justice and recovering state assets. Additionally, the government signed the United Nations Convention Against Corruption (UNCAC) in 2003 and adopted the National Strategy of Corruption Prevention and Eradication 2012-2025 . These measures aim to improve the legal framework, enhance accountability, and promote good governance. By improving its legislation, Indonesia has increased its credibility and trustworthiness as a business destination.
Foreign Investors Land Ownership
One of the challenges that foreign investors face when doing business in Indonesia is land ownership. However, the government has made some changes to allow foreign investors to own land under certain conditions. According to Law No. 5/1960 on Basic Agrarian Principles, a foreign-owned company (PT PMA) or a locally owned company (PT) is permitted to own land for business purposes, such as building factories, offices, or warehouses . The maximum land area that a PT PMA or a PT can own depends on the location and the type of business. For example, a PT PMA or a PT that operates in the industrial sector can own up to 100 hectares of land in Java and up to 200 hectares of land outside Java. By allowing foreign investors to own land, the government has removed one of the barriers to entry and facilitated the establishment and expansion of businesses in Indonesia.
Ease of Doing Business
Previously, the company registration process in Indonesia was a long and complicated process that took at least two months. However, there has been an improvement to the company registration process as it is now reduced by half a month. Apart from the time taken to register a company in Indonesia, the process is now significantly simplified as there is no longer the requirement to submit a Company Domicile (SKDP) with effect from May 2019 14. The SKDP was a document that proved the existence and location of a company and was issued by the local government. By eliminating this requirement, the government has reduced the administrative burden and cost for investors who want to start a business in Indonesia.
Conclusion
Indonesia is a promising country for starting a business, as it offers many advantages for investors. The country has a large and growing market, low labour costs, trade agreements, investment incentives, abundant natural resources, improved legislation, foreign investors land ownership, and ease of doing business. These factors make Indonesia an attractive and competitive destination for doing business in Southeast Asia and beyond.
If you are interested in setting up a company in Indonesia, you can contact Associe, a professional consulting firm that offers services for company registration in Indonesia. Associe can help you with the legal requirements, tax compliance, and business advisory to ensure a smooth and successful entry into the Indonesian market.